Alacrité France Bootcamp
This spring Alacrity Global welcomed five entrepreneurs from Lille, France, to join the Alacrity Global Bootcamp Program. This program consists of a full schedule of 19 workshops guided by experienced industry veterans (including Corporate Executives, CEOs, Startup Founders, Investors and Accelerator Directors) from the Alacrity Global portfolio. It also includes networking events such as TechTuesday, IOT 613, Deloitte Fast 50 Coffee, and more) and numerous other startup related activities to reflect the daily demands of life in a tech Startup. On the final week of the program we took the opportunity to ask these Alacrity Global Entrepreneurs in Residence (EIRs) about their experience in Ottawa.
Vianney Diers
With a background in Business Units Management from IAE, this Lille native field hockey fan focuses on businesses and marketing skills in retail and B2B businesses.
What was the most valuable lesson you learned from the bootcamp?
"The most valuable thing I learned from the Alacrity Global bootcamp is how to speak to and work with people with more technical backgrounds than myself. Throughout the life of a business teams will encounter plenty of challenges and problems, making proper communication vital. People with technical backgrounds have a different ways of seeing things and have different ideas on how to manage problems. The bootcamp here in Ottawa helped me learn to bridge the gap between technical and business communication."
Did any session stand out in particular?
"The session on how to listen to customer demand stood out to me the most. It's always good to remember why you started on a project in the first place and make sure the customer demands are still the focus of the business. I plan to keep what I learned during this session in mind so that I can utilize it when I work on my business in the future."
Did you have a favorite moment from the trip?
"It's my first time in Canada so being here was a great experience. My favorite moment would be when we went to two dinners with Terry Matthews at the Marshes Golf Club. It was a great way to interact with him and the rest of the Alacrity management teams in a casual way. We saw live music and dancing and were welcomed very nicely. We don't have a lot of live music bars in Lille so it was a nice change and the music really added to the experience."
Marc-Aurele Lautel
A software developer with strong interest in augmented reality technology, artificial intelligence and security, Marc's personal goal is to pick up knowledge everyday, no matter what the field.
Did you have a favourite session during the bootcamp program?
"I really enjoyed the session with Amy, Mitel Chief Diversity Officer. She wasn't a technical person and so hearing from her experience helped me learn how differently I should be expressing my thoughts and ideas to non technical people. Another interesting talk was with Andrew from Edgewater who talked about 5 year plans and how to do proper research and development for your business."
What lesson from the boot camp are you taking back with you to France?
"The lesson I'm going to take back to France is to talk clearly and learn to express my ideas in front of people. For our final pitch presentation I had to present to Terry Matthews, and I feel I didn't get my idea across the way I wanted to. I want to keep working on explaining my ideas better."
Since this trip is your first time in Canada, did you experience any form of culture shock?
"The only thing that shocked me was that the sky is very high with clouds that are higher in the sky than back in France. There are also a lot of animals around the city. The food was very different but that didn't shock me because I go to England often and so I was able to prepare myself psychologically for the food."
Soufian Maate
Soufian Maate has had recent experience abroad having graduated with a master's degree in games and interactive digital media and spent time in internships in China and Thailand. Soufian's desire for a career change from programming to management kept him especially receptive to the lessons and challenges throughout the bootcamp.
What was your favorite session at the Alacrity Global Bootcamp?
"It's hard to decide. I think my favorite talk was with ThinkRF as it was about creating projects and finding great partners. I also liked the Echosec presentation because it wasn't only about the application and technical aspects of their software but also about how they started building their startup: the failures, the success and the problems they encountered along the way.
I also really appreciated the Solink workshop on hiring as well as diversity and inclusion. These issues are important nowadays and we should all be aware of it and work on it. Overall I am a technical guy with a technical background I learned a lot of things on the business side of the presentations because I didn't know the fundamentals. The Alacrity Global bootcamp was exactly what I hoped for and wanted it to be like."
What was your most memorable moment from the trip outside of the presentations?
"On my first weekend here I fell 75 ft on Mt Royal in Montreal and ended up with three broken ribs. This moment was very memorable for me but it made it so I couldn't enjoy everything my fellow EIR's were enjoying and I consequently missed some days at the bootcamp. I got to learn that the Canadian health care system is great and I'm just happy to be okay and ready to keep learning about business."
What is a lesson you'll be taking back to France with you?
"The key lesson I learned and will take back with me is that there is no real pattern to success. Everyone has a different story with successes and failures and problems. We'll encounter some mutual ones but it will mostly be very different for us. I also took away the fact that human relationships are the most important relationships in business."
Loik Thebia
With a background in network and telecom engineering, Loik provides technical support to the LISSYS team and was eager to learn from seasoned entrepreneurs.
How did you experience the Alacrity Global bootcamp?
"The bootcamp was extremely insightful. We created great relationships and though I have been in the Alacrity program for a year and a half, I now really feel that I'm a part of the Alacrity Global ecosystem."
What was the most impactful lesson you learned?
"The most impactful lesson was that I can network and learn to do so well. I'm a technical person that rarely had to be on stage or pitch to crowds. I am used to smaller group meetings but going out there and presenting yourself is very important as well. In the past I have been project centered but now I'm understanding more of the the business side and I know it's more about people and creating an ecosystem than just creating technology."
Did you experience any culture shock while in Canada?
"The only culture shock I really experienced was with the food here. The team picked on me a bit as I found it hard to enjoy the Canadian coffee and most things on the menu. But Canada itself seems to be a place of beautiful and endless landscape with lots of straight roads and endless water. We had the opportunity to be in and enjoy nature here since we stayed at Constance Bay for the last three weeks and before that, by the water at Appleton."
Thomas Cassar
Thomas joined the bootcamp with experience in engineering and software development. His creative and social side was eager to explore the business side of the lessons at the Alacrity Global Bootcamp.
What is your biggest takeaway from the Alacrity Global bootcamp?
"I joined the bootcamp with the idea that I only want to work in social impact businesses, and was worried that I wouldn't find that alignment here. However, after the first and second weeks of meeting people in the Alacrity Global ecosystem I realized that I can work with this network to really create my dream job. I will take that lesson to France with me as I focus on what I want to do in the future."
What was your favourite session of the bootcamp?
"I liked Erin's workshop about social media and how you can use it to work on your branding. I like to write and to be connected with people so I enjoy learning about the branding side of the companies. I liked the fact that we talked about the human side of business."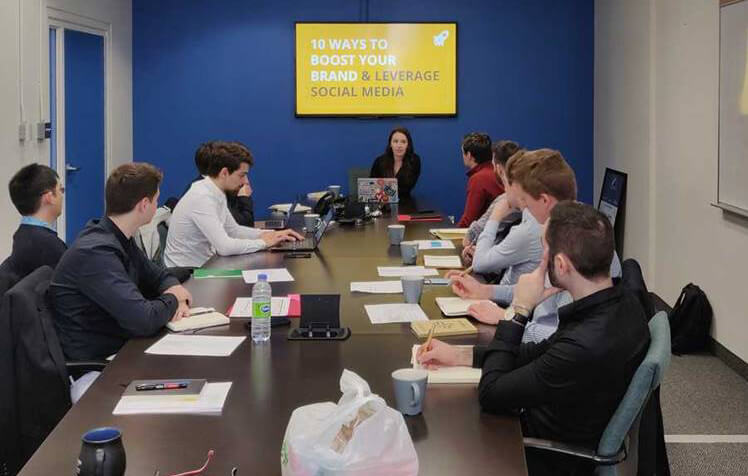 "I also liked the talk with ThinkRF. It was interesting to hear from people in fields I never thought I'd be working on but I really understand their perspective now. All of the speakers challenged our ideas and our team. It was an intense experience but I'm so happy to have had this opportunity at the Alacrity Global Bootcamp."
Alacrity is expecting the next cohort of entrepreneurs in October for the Alacrity Global Fall Bootcamp. Read about Alacrity's last global bootcamp on our blog.