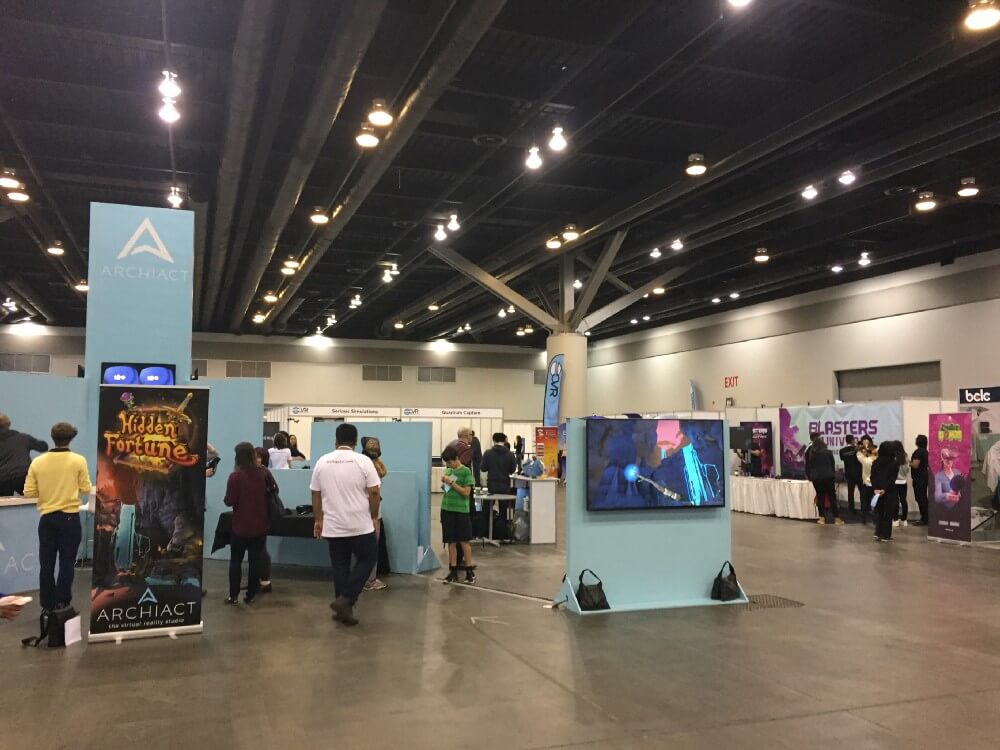 Alacrity China's Archiact hosts CVR: A weekend of gaming, exploring and virtual innovation
Onboard an exploding space station, running as a sabretooth tiger on the hunt, dissecting a dismembered (but still beating) dog's heart, and dodging a great white shark on a mini golf pirate ship — all situations attendees found themselves experiencing during the second annual running of CVR, the Pacific Northwest's biggest annual Virtual Reality / Augmented Reality / Mixed Reality (VR/AR/MR) event.
Held this year at the Vancouver Conference centre May 5–7th, CVR's aim is to unite consumers, developers, businesses, and tech enthusiasts for a weekend of fun that shapes the future of VR and AR. The event was produced by Archiact, a Vancouver-based VR studio that has grown from 3 to 70 employees over the past two years, thanks in part to an investment round that Alacrity China's Henry Wu helped facilitate.
The three-day conference was broken into two areas of focus, with the opening Friday being focused on members and investors in the industry, and the weekend being open for the general public.
Upon entering the CVR venue on the bottom floor of the VCC, the cutting edge tone was set. Walls and floors paved with concrete produced a cool, clean, and chilly feeling. The decor was simple and sparse, almost foreshadowing that there would be more than enough in the booths, on the screens, and in the virtual headsets for the senses to handle.
CVR's "Industry Day" featured a room full of exhibiting companies for the audience of investors and professionals to explore, along with a packed schedule of presentations and panels. Focused networking opportunities included B2B meetings and a "speed dating" finale. Industry Day's panels and presentations were focused on VR/AR in business and entertainment, as well as best practices in the development space. Topics included "Designing the Future of Virtual Humans", "Using Research in VR to Increase Your ROI", and "Reinventing Brands in the Age of VR/AR", and Victorian and Vancouver Island companies such as LlamaZOO were among the experts presenting.
After a full day of steadfast professionalism, the Industry Day attendees did have the chance to begin loosening up while Speed Dating one another, before heading to the Roxy to celebrate Cinco de Mayo at the CVR exclusive afterparty.
The weekend was left open for the public — anyone and everyone interested in experiencing first-hand the mind opening applications of VR technology. Over 5000 people were expected to attend over days 2 and 3, and despite the beautiful weather seeming to persuade quite a few of those to stay outside instead, lineups grew at nearly every booth. The event hall was bustling right through to the end of Sunday. Everywhere you looked on the exhibition floor there were people wearing VR sanitary masks, sporting fresh VR headset imprints on their foreheads, or walking away from booths dazed and confused as if they just arrived back from the future.
CVR 2017 undeniably demonstrated that VR technologies are no longer just for niche technology enthusiasts and gamers. Virtual reality is already driving positive progress across education, healthcare, gaming, and business. Organizations as significant as NASA and Microsoft contributed to the event, and continue to contribute to the advancement of technology. British Columbia is at the epicenter of this breaking edge technology and events like CVR demonstrates that VR innovation is growing locally. Alacrity Canada and Alacrity Global hope to be at the forefront supporting these ecosystems and founders in getting there.